Modular Office Cubicles for Businesses Nationwide from Panel Systems Unlimited
Are you in search of modular office cubicles that combine functionality, style, and affordability? Look no further than Panel Systems Unlimited. We take pride in offering a vast selection of top-notch modular office cubicles suitable for businesses across the nation.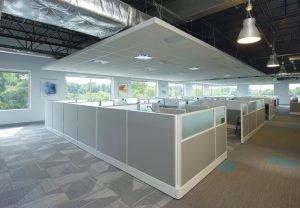 Elevate Your Workspace:
Transform your workplace with our extensive range of modular office cubicles. Whether you require cubicles for a bustling customer service call center, a dynamic sales team, or a creative space filled with writers, we have the perfect solutions to cater to your employees' needs.
Stylish and Durable Options:
Our inventory boasts brand-name used office cubicles available in various configurations, fabric patterns, and a wide array of colors. We are confident that you'll find stylish and durable options that align with your budget and design preferences. Rest assured, all our used cubicles are meticulously refurbished to like-new condition. We conduct thorough cleaning, touch up any chipped trim, and replace broken or defective parts before making them available for sale.
Trusted Manufacturers:
We proudly sell modular office cubicles from some of the industry's most respected manufacturers, including Trendway, Kimball, Teknion, Allsteel, Steelcase, Herman Miller, Knoll, and Haworth. This diverse selection ensures that you have access to cubicles that meet your specific requirements.
Comprehensive Services:
At Panel Systems Unlimited, we go beyond selling modular panel systems furniture. Our comprehensive services include on-site cubicle panel cleaning, workstation installation by licensed and insured technicians, and expert office space planning from our talented designers.
Request a Quote:
Ready to elevate your workspace with our modular office cubicles? Contact us today for a customized quote. Panel Systems Unlimited is an A+ rated company with the Better Business Bureau, and we take pride in supplying used workstations and cubicles to businesses nationwide.
Explore our current inventory.