Modular Office Furniture Systems for Businesses Across the Nation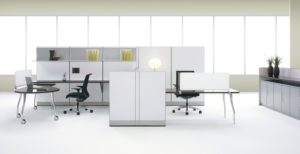 Modular office furniture systems offer companies an affordable way to furnish their workspaces with versatile pieces that can grow and change with their businesses, and at Panel Systems Unlimited, we've been supplying these components for offices around the nation since 1996. Our extensive collection of workstations includes items manufactured by some of the leading names in the industry – brands known for their durability and contemporary styling, such as Teknion, Haworth, Steelcase, Herman Miller, and Knoll. You can rest assured that your furniture will provide you with lasting service and value.
With modular furnishings from Panel Systems Unlimited, you can outfit an office with call center cubicles, computer stations, or conference room tables. Our components are available in various configurations, desk shapes, and with assorted design features to suit nearly any workspace requirement. So, when you need to add new furniture to your office, you can choose from our extensive and varied inventory, including:
Corner workstations
L-shaped and U-shaped desks
Cubicles with built-in shelving and storage
Workstations with adjustable height and width dimensions
No matter the style, shape, or purpose of the modular furniture you select, at Panel Systems Unlimited we'll assist you with planning a layout that makes the most of your workspace, maximizes traffic flow, and optimizes efficiency. Our certified designers can create a CAD rendering to show you what your arrangement will look like before you have our professional installation technicians set everything up according to your specifications.
To learn more about the modular office furniture systems we offer at Panel Systems Unlimited, please contact us today. We are proud to serve businesses nationwide.