Modular Office Furniture for Atlanta, Charlotte, Nashville, Raleigh, Birmingham, and the Entire Nation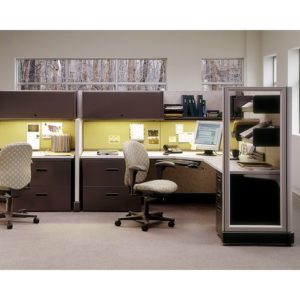 Modular office furniture has the ability to evolve with your Atlanta area company. Cubicles are easily reconfigurable and expandable, making them an ideal choice for offices that need the versatility of modular furnishings to keep pace with changes in business. Panel Systems Unlimited has the extensive selection of new and used cubicles to meet the demands of nearly any office size and budget. Our inventory includes workstations from many of the industry's top manufacturers, including Herman Miller, Knoll, Haworth, and Steelcase. When you choose to furnish your Atlanta office with new or used modular office furniture from Panel Systems Unlimited, you also receive the added support of space planning and installation professionals with more than 40 years of combined experience.  Our systems furniture specialists will go the extra mile to ensure your furniture maximizes your office space and contributes to increased productivity. Our selection of modular office workstations features:
Monolithic or tile and frame options
Various height and width options
U-shapes, L-shapes, telemarketing call center and other configurations
Numerous fabric patterns and colors
Upper and lower storage capabilities
For those looking for used modular office furniture, our selection includes affordable used options that look like new. Our used workstations are painstakingly inspected and retouched to remove any signs of heavy use. If we can't make them look close to new, we don't sell them, so you can rest assured that when you choose used office cubiclesfrom us, the ones you receive will give your office a fresh appearance. For more information on our cubicles and other modular furniture systems for offices in Atlanta, Louisville, Orlando, Knoxville, Birmingham, Charleston, Charlotte, or any city nationwide, contact Panel Systems Unlimited today. We also sell office partitions, desks, and more.