Reliable Low Panel Workstations for Business Owners in Jacksonville, FL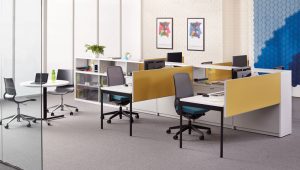 Low panel workstations are the perfect solution for businesses in Jacksonville, Florida, and the surrounding areas, that are looking for products to keep employees on task and granting them the ability to share ideas and collaborate whenever necessary. If this is something you desire at your workspace, Panel Systems Unlimited is proud to offer workstations with low panel walls to provide you with all of these advantages. In fact, low panel workstations are even able to offer more natural lighting that will make your employees feel less claustrophobic throughout the workday. And, by turning to Panel Systems Unlimited for office furnishings, you'll have your choice from a wide variety of sizes, colors, and configurations to perfectly suit your office.
Wide Variety of Office Furniture
What's more, when you turn to Panel Systems Unlimited for new office furniture, you'll be able to select from additional furnishings from all of the industry's leading manufacturers. And, thanks to our ever-rotating selection of new, preowned, and remanufactured products, you'll be able to feel assured that there will always be a high-quality product available to choose from when it comes time to upgrade your office.
Contact Us Today!
To find out more about the impressive low panel workstations available to businesses in Jacksonville, FL, and the surrounding communities, contact Panel Systems Unlimited today. When you do, one of our knowledgeable team members will happily answer any questions you may have about our products.