Beautiful Low Panel Workstations Available to Businesses in Greensboro, NC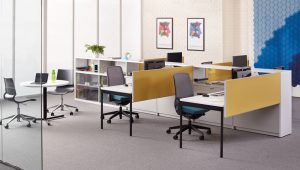 A low panel workstation is a perfect solution for businesses that are attempting to create a contemporary workstation at their office in Greensboro, North Carolina, or a surrounding community. These unique products are designed to keep employees on task while also granting them the luxury of being able to easily share ideas and collaborate when necessary. In addition, low panel walls will allow more lighting to reach your employee's workspace due to the better line of sight they provide. In addition, while traditional cubicles can feel claustrophobic, our low panel workstations are available in a wide array of colors, sizes, and configurations to perfectly suit the needs of your business.
When you turn to the professionals at Panel Systems Unlimited, you'll be able to select from a wide array of products from all of the industry's leading manufacturers. In fact, we have a constantly rotating inventory of new, preowned, and remanufactured products so you'll be able to select from a wide array of premier products whenever you're ready to upgrade.
Furthermore, by working with Panel Systems Unlimited, you'll be able to work closely with our design team to create a fully functional layout of your office. We'll take all of your design and functionality requirements into consideration so that your new design is perfect for all your needs.
Let's Get Started!
For more information about the low panel workstations that we offer to business owners in Greensboro, NC, and the surrounding areas, contact Panel Systems Unlimited today. When you do, one of our knowledgeable team members will happily answer any questions you may have.