Used Kimball Cubicles for Atlanta, Charlotte, Nashville, Birmingham, Tampa, and Throughout the Country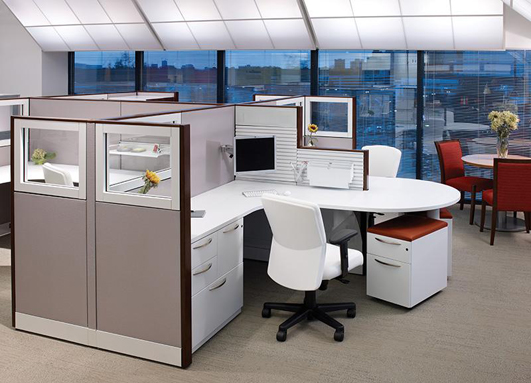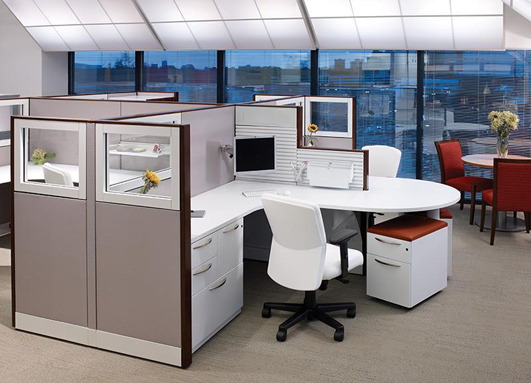 Kimball cubicles are simple, stylish and affordable, and Panel Systems Unlimited carries this exceptional brand in our wide selection of used office workstations. When you choose a Kimball cubicle from our used inventory, you can rest assured that you are getting a product that will look like new and last for years. This is because we only sell used cubicles that meet our stringent standards for outstanding appearance and durability. The cubicles that pass our rigorous inspection are cleaned and retouched until they look like new. We begin with a superior product, which is why office managers and furniture dealers in Atlanta, Greensboro, Birmingham, Jacksonville,Savannah, and around the country trust the quality of our used Kimball office furniture.
Kimball cubicles come with a number of options to suit virtually any office workstation style or configuration you need. Some of those options include:
Fabric, glass, or metal sectional panel tiles
Fabric-wrapped corner pieces
Stackable panels
Adjustable frame heights
Various storage options
And more
Whether you need one used Kimball cubicle to add to your existing Kimball systems furniture, or you need 20 Kimball cubicles to furnish your new office, Panel Systems has all of your office furniture needs covered. In addition, we also provide professional space planning and installation services. Our design team will create a detailed CAD drawing of your office and pre-plan the installation of your furniture to best increase the efficiency of your workplace. Once our installers arrive, they can take care of everything for the assembly of your Kimball cubicles and haul away your old furniture for liquidation.
For more information on our Kimball cubicles or any of our other used brands, including Steelcase, Allsteel, Herman Miller, Haworth, Trendway, Teknion, and more, contact Panel Systems Unlimited today.