Do Cubicles Increase Productivity?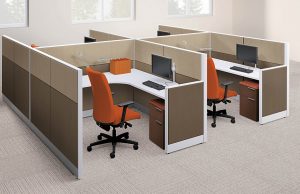 If you're looking for options for office furniture at your business, it is likely that you've considered having cubicles installed. Office cubes are a great product to increase the productivity of your business while also allowing for the maximum number of employees at your workplace. Traditional cubicles are more effective at increasing productivity than many other types of office furniture for a variety of reasons. First of all, the cubicle panel walls will allow them to sit nearby each other without constantly being distracted. Furthermore, cubicles are able to absorb and reduce sounds at the same time as cutting down on visual distractions.
Local business owners that are ready for the installation of cubicles at their office should look no further than the professionals at Panel Systems Unlimited. We proudly offer a variety of office cubicles and always have many new, preowned, and refurbished products in stock. Some of the many popular cubicle styles that we offer include:
U-shaped cubicles
L-shaped cubicles
Cubicles with panels of multiple heights
Collaborative or open plan cubicles
And more
Create the Perfect Design for Your Business
In addition, when you turn to Panel Systems Unlimited for office cubicles for your business, you'll be able to utilize our design team to create the perfect floor plan for your office. Our designers will create a CAD rendered image of your office so that you can envision what it will look like once the installation is complete.
To find out more about the high-quality cubicles that we offer to businesses throughout the nation, contact Panel Systems Unlimited today. When you do, make sure to ask about the lifetime warranty that we offer on all of our products.