Cubicles from Panel Systems Unlimited for Companies in Richmond, VA & Nearby Communities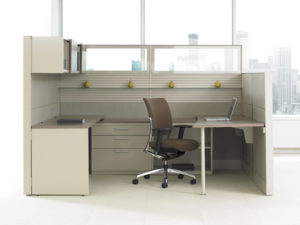 The cubicles available from Panel Systems Unlimited offer businesses in Richmond, Virginia, and all surrounding areas an opportunity to outfit their offices with attractive and affordable workstations to suit their particular workspace requirements. As a full-service office furniture company, we carry an extensive selection of quality, used systems furniture that has passed a rigorous inspection and cleaning process that leaves every item looking as if it has been in use for only about six months. Plus, the structural integrity, long-lasting durability, and aesthetic appeal found in our cubicles come at a substantial cost-savings over brand new furnishings.
With cubicles from Panel Systems Unlimited, you can optimize your office layout for superior work productivity and ease of traffic flow. Our workstations are available in a wide range of styles, sizes, and shapes, so you can find the right configuration for your company in the Richmond, VA, area. Some of the possible styles you may select from our inventory include:
Computer workstations
U-shaped and L-shaped desks
Call center cubicles
Stations with built-in shelves and storage panels
Ergonomically designed workspaces
And more
Whichever arrangement you choose for your office, Panel Systems Unlimited can help you plan the layout with our CAD technology. Our certified design team will assist you in creating a detailed floor plan that our technicians can then install to your exact specifications.
When you're ready to outfit your office with quality cubicles, contact Panel Systems Unlimited. We are proud to provide quality cubicles and modular office furniture to businesses in Richmond, VA, and all nearby communities.