Collaborative Office Furniture for Companies throughout Augusta, GA & Nearby Areas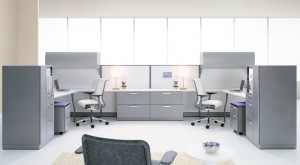 Furnishing your office in Augusta, Georgia, with collaborative office furniture can help to boost creativity throughout the office as well as foster a communal learning environment. Collaborative furniture, such as two-person cubicles, is especially designed to accommodate multiple laptops and help foster teamwork and collaboration among your employees. This type of office furniture is becoming increasingly popular in the modern workplace, so if your business in the Augusta, Georgia, area is looking for collaborative office furniture, there's only one place to turn for a premium selection – Panel Systems Unlimited.
At Panel Systems Unlimited, you can rest assured that all of our items will be functional, attractive, and highly-durable, even throughout heavy daily use. Moreover, our rotating inventory includes some of the most well-respected furniture manufacturers today, including:
AIS
Herman Miller
Steelcase
Allsteel
Teknion
And more
What's more, once you have selected your office furniture, we can help you situate the furniture perfectly into your workplace. Our certified designers produce 3-D drawings that will allow you to see the configuration of the furniture in your office before we even begin installation. This will streamline the installation process as it will ensure that all of the furniture appropriately fits and the configuration completely meets your needs.
If you would like more information about the collaborative office furniture we can install in your office in the Augusta, GA, area, contact Panel Systems Unlimited today. We have been proudly serving businesses in the Southeast and throughout the U.S. since 1996.