Attractive and Durable Collaborative Office Furnishings for Businesses in the Atlanta, GA, Metropolitan Area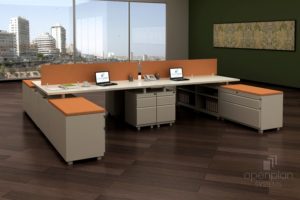 A wide selection of collaborative office furnishings is available at Panel Systems Unlimited. Beginning in Atlanta, Georgia, in 1996, Panel Systems Unlimited has since grown to be a supplier and installer of top-quality office furniture to businesses across the nation. Our inventory includes names from some of the best brands today, including OPS, Herman Miller, Teknion, Knoll, Steelcase, and more, so you can rest assured that your business in or around Atlanta, Georgia, will be receiving top-quality furniture.
Our expansive inventory includes a wide selection of furniture, including benching systems, desking systems, workstations, cubicles, seating of all types, and more. With us, you'll be able to virtually furnish an entire office from top to bottom. All of our furniture also comes in three categories, so you'll be able to choose the category that best suits your budget, including:
Not only do we offer collaborative office furnishings, we also provide design and installation services. This way, all you will have to do is select your office furniture and leave the rest up to us. Our knowledgeable staff will create a CAD model of your office space and your office furniture, ensuring that we create configuration that is both practical and approved by you. Then, our professional installation team will make sure your office furniture is efficiently and properly installed, so your business will be up and running in no time.
To inquire about the collaborative office furnishings we currently have in stock or for more information on the services we can provide for your office in Atlanta, GA, contact us today. We will gladly answer any questions you have.