Collaborative Desking Systems for Companies in Columbus, GA & All Nearby Communities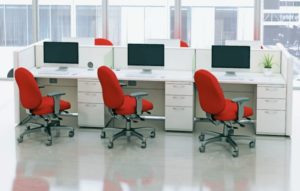 Panel Systems Unlimited offers collaborative desking systems for businesses in Columbus, Georgia, and all neighboring communities. The innovative design of these open plan furnishings can increase productivity and encourage teamwork among your employees, while also enhancing your office décor. And, since they are available with privacy screens, as well as other convenient accessories, desking systems allow for independent focus and efficient work at each station. The wide range of materials, colors, and finishes to choose from also lets you customize your furniture to suit your aesthetic preferences.
Another reason these furniture pieces are a smart addition to your office is the fact that we offer items from some of the top manufacturers in the industry. You can count on long-lasting functionality from the collaborative desking systems you purchase from Panel Systems Unlimited. You might choose any of the following brands for your office in Columbus:
AIS
Trendway
Steelcase
Knoll
Herman Miller
And more
No matter which maker you select, your investment will be well-protected because we cover every item we sell with a lifetime warranty. And, as a full-service office furniture company, we also offer planning and design assistance to help you arrange your new furnishings to make the most efficient use of your floor space and create an appealing work environment.
To learn more about the outstanding collaborative desking systems we offer, please contact Panel Systems Unlimited today. We have proudly been helping businesses in Columbus, GA, and throughout the United States furnish their workspaces since 1996.