Select the Best Office Partitions for Your Business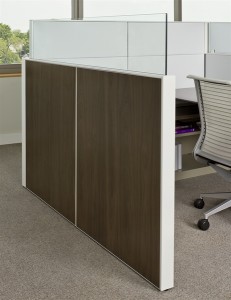 Preowned office partitions are a great choice for your business if you're attempting to create an efficient and inviting work environment for your employees. Businesses throughout the nation can look no further than the experts at Panel Systems Unlimited for pre-owned dividers that have been cleaned, inspected, and refurbished before being made available for sale. This will allow you to take advantage of a lower purchase point as well as receiving the best office partitions available for your office. In fact, our partitions will look and feel as if they've only been in use for about six months.
By selecting Panel Systems Unlimited for your used office partitions, you'll be able to select from a wide array of styles to ensure that you're receiving the best products to match your office's existing appearance. You'll be able to select from:
Assorted sizes and shapes
Numerous color and pattern choices
Wood veneer, glass, and fabric surfaces
And more
Also, our design team will ensure that your new office partitions are made to suit the existing layout of your office or we will help you create a brand new layout to incorporate your new office partitions. In fact, our team will even create a detailed floor plan that you will be able to approve before the installation.
Let's Get Started!
To find out more about what makes our office partitions the best available to businesses throughout the nation, contact Panel Systems Unlimited today. When you do, we will happily answer any questions you may have about how our used office partitions can provide your business with the functionality and style that you've always desired.