Benefits of Used Office Furniture for Businesses in Asheville, NC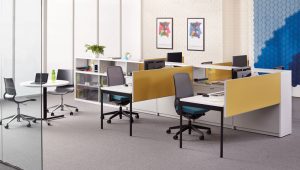 If you're looking for used office furniture options at your business in Asheville, North Carolina, or a surrounding area, you may be wondering what to look for when selecting the right furnishings for your office. Thankfully, the professionals at Panel Systems Unlimited proudly offer quality used office furniture that will save you money while furnishing your office. While some business owners may be skeptical of used office furniture, our products are available in a top-notch condition and will look and feel as if they have been used for no more than six months. This is because we thoroughly clean and inspect every item in our inventory to make sure it meets our high standards of durability, appearance, and functionality.
In addition, when you receive used office furniture from Panel Systems Unlimited, you'll be able to work closely with our design team so that you can make the most efficient use of your floor space at your Asheville office. In fact, our design specialists will create a CAD rendering of your workspace so that you can find a design that will encourage productivity and enhance traffic flow at your office.
Impressive Warranty Options
In addition, when you turn to Panel Systems Unlimited for used office furniture for your office, you'll be able to feel secure in your investment because we offer an impressive warranty on most of the products we offer and in the labor we perform. This will allow you to feel confident knowing that your investment will remain protected for years to come.
For more information about the benefits of used office furniture and how they are an affordable solution for your business in Asheville, NC, or a surrounding area, contact Panel Systems Unlimited today.