AIS Systems Furniture for Companies throughout the United States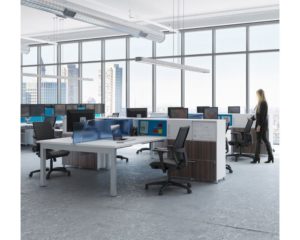 Panel Systems Unlimited offers AIS systems furniture for businesses across the country. This versatile furniture can accommodate a wide range of workspace requirements, from open plan collaborative settings to private, individual workstations where employees can focus on solitary tasks. And, since it's from AIS, you can trust its excellent craftsmanship to provide you with years of aesthetically pleasing, functional service.
The systems furniture we offer comes in a wide range of configurations and can be easily adapted to your evolving business needs. Some of the equipment you might select for your office includes:
Benching systems
Computer workstations
File and storage systems
Desking systems
Cubicles with glass or fabric panels
And more
And, AIS systems furniture is built with convenience in mind. Easy-access data and power ports, telescoping rails, adaptable dividing screens, and optional monitor arms will help your employees work more productively. Furthermore, at Panel Systems Unlimited, our certified designers can create a furniture layout to make the most efficient use of your floor space and allow you to preview it in a CAD rendering before our professional technicians install everything to your specifications. And, since AIS makes its furniture systems easily re-configured and customizable, they can meet the needs of your company today and into the future.
If you'd like to learn more about the outstanding AIS systems furniture we offer to businesses throughout the United States, please contact Panel Systems Unlimited today.