AIS Systems Furniture for Companies in Charlotte, NC & All Surrounding Communities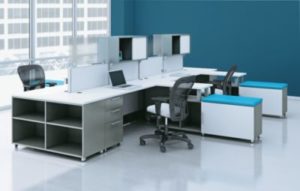 AIS systems furniture offers innovative designs with practical features that can create a productive, appealing work environment for your business in Charlotte or any nearby North Carolina community. A leading manufacturer of commercial furniture known for their ingenuity and reliability, AIS builds furniture to fit the needs of today's evolving workplace. And, the full-service office furniture dealer that can provide you with these cutting-edge components at competitive prices is Panel Systems Unlimited. Since 1996, we have been helping local companies and businesses throughout the United States outfit their offices with high-quality furniture, so you can count on our experience and expertise.
Our certified designers can help you create a floor plan, making the most efficient use of your office space, and then show you a CAD rendering to preview how your furniture will look before our professional technicians install everything according to your specifications. Whether you want an open office plan or a setup that allows for more solitary work, our AIS systems furniture can accommodate your preferences. Some of the options you can choose from for your office in Charlotte include:
Computer workstations
Benching and desking systems
File and storage units
Cubicles with glass panels
And more
All of these pieces are customizable and easily reconfigured, in addition to containing convenient features that make them especially user-friendly – such as easy-access data and power ports, adaptable dividing screens, and optional monitor arms, which is why AIS furnishings are a smart investment for your business today and into the future.
For more information on the outstanding AIS systems furniture we offer to companies in and around Charlotte, NC, please contact Panel Systems Unlimited today.