AIS Systems Furniture for Businesses in Birmingham, AL & All Nearby Communities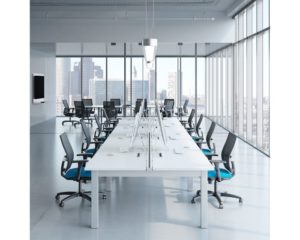 Panel Systems Unlimited offers a wide selection of AIS systems furniture for companies in and around Birmingham, Alabama. From cubicles to benching systems to computer workstations and more, this versatile furniture can meet a range of workplace needs. Whether you want desktops that foster collaborative teamwork or individual stations that allow for solitary, focused concentration, our AIS furnishings can accommodate your requirements. And, since they're designed for aesthetic appeal as well as functionality, these systems will enhance your office décor with beautiful finishes and contemporary styling.
When you choose AIS systems furniture from Panel Systems Unlimited for your office in Birmingham, you'll also benefit from its many built-in features, including:
Easy-access power and data ports
Strong steel framework with telescoping rails
Space-saving accessory rail system that can house fabric or glass screens, monitor arms, and other helpful attachments
Plus, we can help you plan the layout of your new furnishings to maximize your floor space and encourage productivity. At Panel Systems Unlimited, our team of certified designers can create a three-dimensional CAD rendering for you to preview what your furniture will look like before our professional technicians install everything according to your specifications. Easily re-configured and customizable, our AIS furnishings are perfect for your office today and as your company evolves in the future.
To learn more about the benefits our AIS systems furniture offers to businesses in Birmingham and all surrounding areas in AL, please contact Panel Systems Unlimited today.