Convenient AIS Office Furniture for Businesses in Knoxville, TN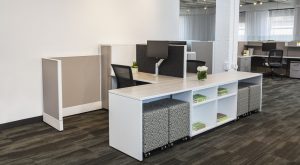 If you're looking for quality office furniture at your business in Knoxville, Tennessee, or a surrounding area, consider having AIS office furniture installed by the professionals at Panel Systems Unlimited. We are proud to offer all of the aesthetically appealing AIS office furnishings that will enhance the appeal and functionality of your office. And, all of our installers will ensure that everything is set up properly because even the most high-quality products are rendered useless if installed improperly.
What's more, if you're interested in AIS office furniture from Panel Systems Unlimited, you'll be able to take advantage of customizable products that are easily paired with data and power functions, monitor arms, dividing screens, and more. And, all of the AIS products are made in a wide variety of styles to perfectly suit your office, including:
Stack
Glass
Monolithic
Segmented
And more
In-House Design Team
In addition, when you turn to Panel Systems Unlimited as the office furniture supplier for your business in Knoxville, TN, or a surrounding area, you'll be able to take advantage of our highly-experienced in-house design team. Our team of designers will provide you with an impressive CAD-rendered drawing so that you can visualize what your office will look like before a single piece of furniture is installed. This step in the process will allow us to create a design that maximizes the space and functionality of your workplace.
To find out more about the impressive AIS office furniture that we offer to businesses in Knoxville, TN, and the surrounding areas, contact Panel Systems Unlimited today. When you do, one of our team members will happily answer any questions you may have about our products.