AIS Cubicles for Businesses in Nashville, TN & All Nearby Communities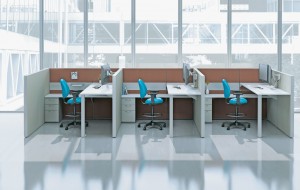 Panel Systems Unlimited offers a wide selection of AIS cubicles for businesses in and around Nashville, Tennessee. A leading manufacturer of commercial furniture known for its ingenuity and reliability, AIS builds furniture to fit the needs of today's evolving workplace. And, as a full-service office furniture dealer, Panel Systems Unlimited can provide you with cutting-edge AIS products at competitive prices that will stylishly suit the needs of your workplace.
Our selection of cubicles features a wide variety of designs, from traditional to contemporary, allowing us to meet the needs of your company. AIS cubicles can be made using any of the following panel materials or styles to meet the needs of businesses in the Nashville, TN, area:
Monolithic
Segmented
Glass
Stack configurations
And more
AIS furnishings are a smart investment for your business because they are customizable and easily reconfigured. Additionally, AIS workstations contain convenient, user-friendly features including easy-access data and power ports, optional monitor arms, and adaptable dividing screens. However, the features of AIS cubicles are just an added bonus. Whether you buy used or new products from Panel Systems Unlimited, you are guaranteed a high quality, durable, furnishing that is made to last. We feel so strongly about the quality of our products that we offer a lifetime warranty on every piece of furnishing that we offer.
For more information on the outstanding AIS cubicles we offer to companies in and around Nashville, TN, please contact Panel Systems Unlimited today.