Sustainable AIS Cubicles for Businesses in Charlotte, NC & Surrounding Areas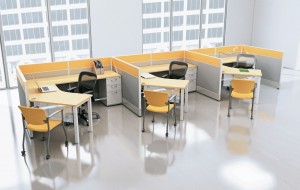 AIS cubicles offered by Panel Systems Unlimited for businesses in Charlotte, North Carolina, and the surrounding areas are a great choice for any business owners looking for a more durable and eco-friendly solution for their workplace. Some of the most appealing features of AIS furnishings are related to the "green" nature of the product. You will be able to rest easy knowing that you are doing your part to save the environment by buying cubicles that are made with up to 60% recycled materials.
Additionally, AIS cubicles can add numerous features that you didn't even realize that you needed in your office, including easy-access power and data ports and a strong steel framework. More importantly, when purchasing AIS cubicles from Panel Systems Unlimited for your business in Charlotte, NC, or a surrounding area, you will receive the following sustainability tax benefits:
A SCS Indoor Advantage Gold Certificate
A Level 2 Certificate
The possibility of other various tax incentives for purchasing eco-friendly products
Our certified design team can create a three-dimensional CAD rendering of your new layout so you can fully envision what it is going to look like once the project is complete. We understand that trends in office furnishings are always changing, so with AIS products you are given the most re-configuration options so that your business can keep up as your company grows.
To learn more about the AIS cubicles offered by Panel Systems Unlimited to business owners in Charlotte, NC, and the surrounding area, contact us today. We also can provide AIS solutions for benching systems, desking systems, computer workstations, and more.