Workstations from Panel Systems Unlimited for Offices in Richmond, VA & the Surrounding Area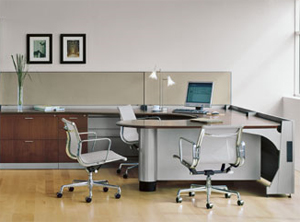 Panel Systems Unlimited offers an extensive selection of high-quality workstations for businesses in Richmond, Virginia, and the surrounding communities. Our inventory of used cubicles often includes items from industry-leading manufacturers, such as Herman Miller, Steelcase, Knoll, Teknion, and more. All of these superior products have undergone an extensive inspection, cleaning, and refurbishing process before being made available for sale, and if we receive items that don't meet our high standards, we don't sell them. So, when you buy used workstations from Panel Systems Unlimited, you can rest assured that you are getting attractive, commercial-grade furnishings that will last long into the future.
As a full-service office furnishings company, Panel Systems Unlimited also offers expert design and installation services as part of our commitment to providing businesses with complete solutions for all their workspace furniture needs. Our team of certified designers can develop a floor plan customized for your office, ensuring your workstations create a productive, efficient working environment. Then, our authorized installers can set up and arrange your cubicles according to the specified layout.
Once you've chosen and planned for your workstations, you can further personalize them to suit the aesthetic style of your Richmond, VA, office. We offer a variety of style options, including:
Assorted surface materials and colors
A range of dimensions and shapes
Numerous panel fabrics and patterns
Your workstations can provide a welcoming, aesthetically pleasing workplace for your entire company, as well as tremendous cost savings for you. In fact, our pre-owned office components look as if they've only been in use for about six months, but without the high price you'd pay for new products.
When you want to add workstations to your business in Richmond, VA, or any nearby community, contact Panel Systems Unlimited. We have been providing office space solutions for companies since 1996.