Workstations from Panel Systems Unlimited for Businesses in Orlando, FL & Nearby Communities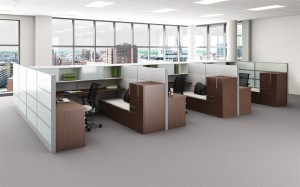 Workstations from Panel Systems Unlimited offer businesses in Orlando, Florida, and the surrounding areas an affordable way to furnish their offices with attractive and functional systems furniture. These versatile cubicles can be configured to enhance traffic flow and increase productivity while adding an aesthetic appeal to any office environment. Our workstations are available in a wide variety of finishes, including fabric panels and glass dividers, as well as numerous colors and patterns to suit the style and décor of your particular workspace.
Additionally, these workstations come in various shapes and sizes, so you'll be sure to find the ones that can provide you with the right fit for your needs. Whether you're setting up a call center, computer workroom, or individual, private work cubicles, Panel Systems Unlimited can furnish the components for your company. And, you can trust their quality, since we meticulously inspect and clean every item before offering it for sale, as well as refurbishing or repairing where necessary to ensure you'll get years of service from your workstations.
When you look through our extensive inventory of systems furniture to outfit your Orlando, FL, area business, you may find workstations from the following industry-leading manufacturers that will serve your purpose:
Herman Miller
Knoll
Steelcase
Teknion
Haworth
And more
Our goal at Panel Systems Unlimited is to provide premium, commercial-grade office furniture that is well-crafted, attractive, and fully functioning. So, if you're looking for workstations that will last and provide valuable service to your employees as well as create an appealing office environment, contact us today. We're proud to serve business in Orlando, FL, and nearby communities.