Workstations for Companies in Charlotte, NC & All Surrounding Cities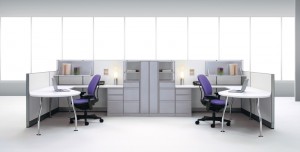 If you are looking for dependable, cost-effective workstations for your business in Charlotte or any other nearby community in North Carolina, make the smart decision and turn to Panel Systems Unlimited. Our selection of used cubicles often includes pieces from industry-leading brands like Herman Miller, Teknion, Allsteel, Knoll, Steelcase, and more. These companies have a reputation for manufacturing only the finest commercial-grade furniture, so you can trust that the panel systems we offer are built to last. In addition, to ensure that each system in our inventory is attractive and fully functional, we only sell used workstations that have passed a thorough inspection and undergone a meticulous refurbishment process.
To help you find the perfect systems furniture for the offices of your Charlotte, NC, area company, we offer workstations in numerous design and style options, enabling you to choose from:
A range of surface materials and colors
Various fabric colors and patterns
Assorted dimensions and shapes
Beyond providing exceptional previously owned workstations, at Panel Systems Unlimited, we also offer expert design and installation services. Using a CAD, we can develop a layout that maximizes the available space in your office while creating a work environment that encourages productivity and collaboration. Then, our professional technicians can assemble and arrange your new cubicles, according to your customized plan.
To learn more about the benefits of adding used workstations from Panel Systems Unlimited to your Charlotte, NC, area company, please contact us today.