What Are the Advantages of Modular Furniture?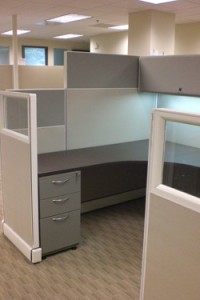 If you're looking for office furniture for your business, consider having modular office furniture installed in place of a more traditional option. Modular furnishings will provide your business with the versatility, functionality, and durability that you desire because these attractive products are able to easily be rearranged to suit whatever workspace requirements you may have. This is especially important for companies that are going through periods of growth or change that need to make room for new hires.
If you're ready for modular office furniture at your business, look no further than the professionals at Panel Systems Unlimited. We offer a range of new, preowned, and refurbished pieces that are thoroughly cleaned and inspected before sale to ensure it meets our strict standards for integrity, appearance, and serviceability. This means you can count on lasting quality and impressive aesthetic appeal throughout our entire selection.
Whether you desire collaborative tables, computer desks, call center cubicles, or any other products, Panel Systems Unlimited is sure to have the right products to get the job done while enhancing your office space. In fact, we offer modular office furniture from all of the industry's leading manufacturers to ensure that you're receiving products that are made with meticulous craftsmanship for long-lasting functionality.
Contact us Today!
To find out more about the impressive modular office furniture that we offer to businesses throughout the nation, contact Panel Systems Unlimited today. When you do, our team of experienced designers will help you select the appropriate pieces for your office as well as choose a convenient design and layout for the installation of your furniture.