Used Cubicles Can Help You Have an Eco-Friendly Business
If you have been trying to rebrand your company as being eco-friendly, buying used cubicles and other recycled office furnishings can help you go a long way toward reaching that goal. When you choose pre-owned office furniture, you are making an environmentally responsible purchase, because you're reducing the strain on resources that would have been used if you bought new. Plus, buying used office furniture keeps more waste out of landfills. But, there are many more advantages to buying used office furniture than helping the earth stay a little greener. In fact, buying used cubicles and other recycled office furnishings can directly benefit your business.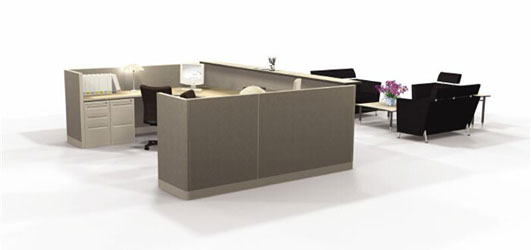 By spending as little as 30 percent of your office furniture budget on used cubicles and other furnishings, you can earn points that can qualify you for LEED certification from the U.S. Green Building Council. As a LEED-certified business, you can claim certain tax credits that will help you save a significant amount of money. And, that's not all. Because the LEED certification program is so widely known, displaying the LEED seal on your corporate website, brochures, and advertising can help you identify your company as being environmentally conscious. With a green-friendly image, your corporation may earn more business from other eco-conscious companies as well as customers who prefer to deal with green businesses.
While buying used cubicles and other recycled office furniture is just one part of the LEED certification process, it can be a significant piece of the puzzle. At Panel Systems Unlimited, we can make completing that picture much easier with our vast inventory of used cubicles, refurbished workstations, and other office furnishings. We've been selling recycled office furniture since 1996, long before "being green" was considered cool. Over the years, we have grown to become one of the largest dealers of outstanding used office furniture, and have a wide array of durable, attractive systems office furniture for sale. We carry used cubicles, workstations, and more from many of the industry's top names, including Herman Miller, Haworth, Steelcase, and others. Each of the used furnishings we sell is carefully inspected and then touched up, cleaned, and repaired to ensure they are of the highest visual and structural quality.
Contact us today for more information about our used workstations, cubicles, desks, and more for businesses in Atlanta, New Orleans, Baltimore, Savannah, Tampa, and other cities throughout the Southeast United States.
Brand selection based on current inventory.