Used Cubicles for Businesses in Atlanta, GA & Offices Throughout the Southeast and Across the United States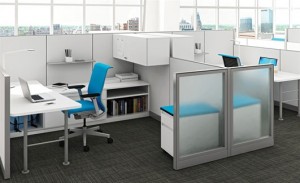 Panel Systems Unlimited offers quality used cubicles to companies in Atlanta, Georgia, or any city throughout the United States, who want an affordable office furniture option that allows for future expansion and provides long-lasting service for their employees. Our cubicles are not like those of some companies who sell workstations with missing parts, dirty panels, or in general disrepair. We meticulously clean and inspect every item in our inventory before offering it for sale to ensure it meets our high standards of excellence for appearance and functionality.
We simply won't sell any used cubicles that don't measure up to our expectations, even repairing and refurbishing wherever necessary. Unlike some furniture providers that might offer used furniture just as they received it, we'll replace any missing parts, touch up trim, clean panels, and more to make sure the cubicles we sell are attractive and in good working order.
The used cubicles we have available for your Atlanta area office can serve many different purposes and suit a variety of work spaces and decorating themes. You can choose from the following options:
Computer workstations
Call center cubicles
Ergonomic workstations
U-shaped and L-shaped cubicles
Various fabric and color choices for panel surfaces
Assorted trim color options
And much more
And, as a full-service office furniture company, Panel Systems Unlimited offers professional design and installation services for your used cubicles. Our certified experts can use CAD technology to create furniture layouts that allow you to preview your planned space before our trained technicians install everything according to your specifications, including any electrical setup or assembly work.
Since we offer cubicles from top manufacturers like Herman Miller, Steelcase, Haworth, and more, you'll know you're getting quality craftsmanship and contemporary styling that will give you years of service. To learn more about our outstanding selection of used office cubicles for sale to businesses in Atlanta, GA, and all across the country, please contact Panel Systems Unlimited today.