Used Workstations for Businesses in Durham, NC & Other Surrounding Cities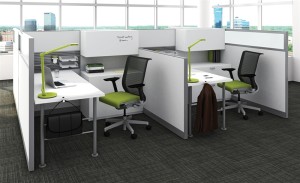 At Panel Systems Unlimited, you can purchase used workstations for your Durham, North Carolina, business and not have to sacrifice quality for savings. The pre-owned workstations we sell are very well maintained, and look like they've only been in use for a few months. They are free of visible defects, have no missing or damaged parts, are very sturdy, and are fully functional. These workstations also are built to stand the test of time, being products of the some of the furniture industry's most respected manufacturers. Yet, these used workstations are available at outstanding prices, affording companies an opportunity to save some money on commercial-grade office furniture.
While we offer used workstations that will last for years to come – and are protected by a lifetime warranty – the benefits of choosing to purchase your systems furniture from Panel Systems Unlimited goes beyond our expansive selection of durable and stylish products. We have the industry knowledge necessary to help you identify the right workstations to fit the specific needs of your Durham, NC, business, and we can also assist you in constructing the ideal office space through:
Professional space planning services from expert office designers
Complete project management of furniture installation
And more
Please contact us today to receive more information about the used workstations we have available for businesses in Durham, NC, and the surrounding area. While our inventory changes constantly, you could find options from trusted manufacturers such as Herman Miller, Allsteel, Steelcase, Kimball, and Trendway among our selection.