Premium Used Office Cubicles Available to Business Owners in Orlando, FL & Surrounding Areas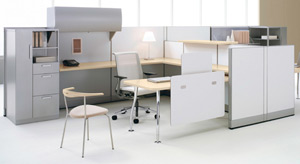 Purchasing used office cubicles for your business in Orlando, Florida, or a surrounding area, can be a great way to increase the functionality and appeal of your office while also staying firmly within your budget. At Panel Systems Unlimited, we acquire our used cubicles from only the highest quality of sources and will ensure that you receive a product that will feel brand new or used for no more than six months.
At Panel Systems Unlimited, we can provide business owners with used office cubicles in all of the styles that would be available to those who were purchasing new. These premium cubicles come from all of the leading manufacturers in the industry including Herman Miller, Haworth, Teknion, and more. Even though our inventory is always changing, you will have any of the following styles of cubicle readily available for your Orlando, FL, business, at any given time:
Call center workstations
L-shaped and U-shaped cubicles
Computer workstations
Ergonomically designed workstations
And more
Additionally, when you partner with us for your cubicle needs, you will be able to take advantage of our impressive design team. They will present you with a CAD rendering of what your office will look like once your products are installed and in use. We will not move a single product into your office until you are 100 percent satisfied with your design.
For more information about the high quality used office cubicles we can offer to business owners in Orlando, FL, and the surrounding areas, contact Panel Systems Unlimited today.