High Quality Used Cubicles Available to Business Owners in Raleigh, NC & Surrounding Communities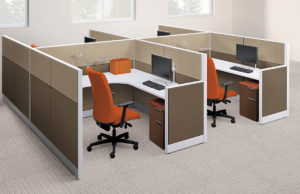 If you are looking for used cubicles at your office in Raleigh, North Carolina, or a surrounding area, make sure that you are partnering with a furniture dealer that you can rely upon. With so many variables that go into purchasing preowned products, it is important that you feel like you are not being taken advantage of when making such a big purchase. One of the biggest factors to look for in a company is whether or not a lifetime warranty is offered on the used cubicles they offer. With a guarantee in place you will be able to rest assured that your new investment will be protected.
Additionally, another important thing to look for is that the used cubicles offered by the company you are researching are available in whatever style you desire for your business in the Raleigh, NC, area. Some common styles include:
U-shaped cubicles
L-shaped cubicles
Customizable configurations such as varying panel heights depending on the needs of your office
Your choice of open plan or collaborative cubicles if that is what you require
And more
Thankfully, Panel Systems Unlimited is in the area and offers all of these various styles of used cubicles and more. We have expertly served the area since our opening in 1996 and we can assure you that your product will look like it has been gently used for a short period of time. The discounts you received by buying our used office furniture will allow you to receive a great product for far less than you would have if you had purchased brand new.
To learn more about the impressive used cubicles and other office furniture that we offer to business owners in Raleigh, NC, and the surrounding areas, contact Panel Systems Unlimited today.