High-Quality Used Cubicles Available to Business Owners in Jacksonville, FL & Surrounding Areas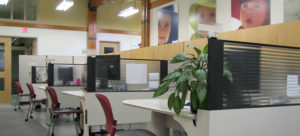 Used cubicles are an effective solution for business owners looking to upgrade their office space in Jacksonville, Florida, and the surrounding areas. By turning to a reputable preowned office furnishings company you will be able to rest assured that the product you select will look and feel like it's been used for no more than six months while still costing you fractions of the price of buying new.
And, if the company you purchase your used cubicles from for your business in Jacksonville, FL, or a surrounding area, is a reputable company, they will be able to offer you whatever style of cubicle or workstation you desire. Some of the popular styles throughout the industry include:
U-shaped cubicles
L-shaped cubicles
Call center workstations
Computer workstations
And more
Thankfully, Panel Systems Unlimited has proudly served the area since 1996 and offers some of the best used cubicles in the industry. And, we provide an in-house design team that will provide you with a CAD-rendered drawing so that you can see what the layout of your office space will be once your installation is complete. This will save you the stress of being unhappy with the finished design after your installation is complete.
For more information about the used cubicles that we offer to business owners in Jacksonville, FL, and the surrounding areas, contact Panel Systems Unlimited today. When you do, a knowledgeable member of our team will happily answer any questions you may have about our products and services.