High-Quality Used Cubicles Available to Businesses in Huntsville, AL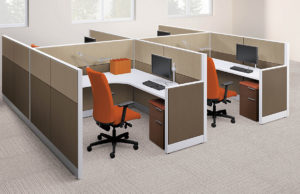 If you're searching for the best used cubicles for your office in Huntsville, Alabama, or a surrounding area, look no further than the experts at Panel Systems Unlimited. We offer attractive and durable used cubicles that will be fully inspected and cleaned before ever being offered for sale. Each cubicle will undergo any repairs or refurbishments to ensure your new cubicles will look and feel like a brand new product.
In addition to the value we place on the condition of our used cubicles, we also strive to offer a wide array of sizes, shapes, and styles, so that you can find the perfect products for your Huntsville, AL, workspace. Some of the selections we offer include:
Call center cubicles
Built-in shelving and storage panels
Ergonomically designed cubicles
U-shaped and L-shaped desks
And more
Experienced Design Team
As a full-service office furniture company, we can also assist you with the design and layout of your used cubicles to ensure they perfectly fit your space and workflow requirements. Our team of certified designers will create a detailed floor plan using CAD technology to allow you to easily preview what your new furnishings will look like once installed.
Contact Us Today!
For more information about our impressive used cubicles that we offer to businesses in Huntsville, AL, and the surrounding areas, contact Panel Systems Unlimited today. When you do we will happily answer any questions you may have about our preowned workstations.