High-Quality Used Cubicles for Businesses in Greenville, SC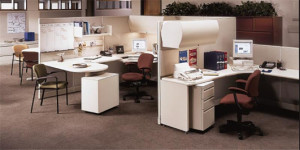 If you're looking for used cubicles from Panel Systems Unlimited for your business in Greenville, South Carolina, or a surrounding area, look no further than the experts at Panel Systems Unlimited. We offer attractive and durable used office furniture that will undergo a meticulous inspection and cleaning process before being offered for sale. Each used cubicle will undergo any necessary repair or refurbishments to ensure your new products look and feel like a brand new cubicle at a more affordable price.
In addition to the value we place on the condition of our used cubicles, we also strive to offer a wide range of shapes, sizes, and styles, so that you can easily find the right products for your Greenville, SC, area workspace. Some of the selections we offer in our inventory include:
Built-in shelving and storage panels
U-shaped and L-shaped desks
Call center cubicles
Computer workstations
Ergonomically designed cubicles
And more
Impressive Design Team
Furthermore, as a full-service office furniture company, we can also assist you with the design and layout of your used cubicles to make the most of your particular space and workflow requirements. Our team of certified designers can create detailed floor plans using CAD technology to allow you to preview what your new furnishings might look like. Then, our technicians can assemble and arrange all of your components to the plan specifications.
Let's Get Started!
For more information about the value of used cubicles from Panel Systems Unlimited, contact us today. We proudly serve businesses in Greenville, SC, and all surrounding areas.