Large Selection of Used Cubicles for Charlotte, NC, Area Businesses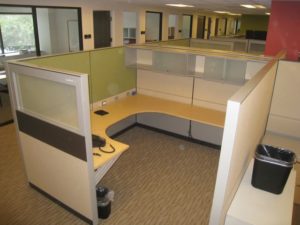 Used cubicles are a great way to save money while furnishing a beautiful new workspace or making some extra room from new hires at your Charlotte, North Carolina, area business. If this is something that you are looking for, Panel Systems Unlimited offers some of the best preowned cubicles in the area. This is because we source our workstations from industry-leading manufacturers such as Herman Miller, Haworth, Steelcase, Knoll, Allsteel, and more. And, while the used cubicles we sell you will feel like they have been used for no more than six months, you will be paying far less for them than you would have for a brand new product.
While our inventory is constantly changing you can always expect to find workstations that are highly effective and aesthetically appealing. The used cubicles offered by Panel Systems Unlimited to businesses in the Charlotte, NC, area are available in several different styles to meet whatever your needs may be. These include:
Collaborative or open plan cubicles
U-shaped cubicles
L-shaped cubicles
Cubicles with panels of varying heights to enhance privacy or increase teamwork
And more
To learn more about the many used cubicles available to businesses in Charlotte, NC, and the surrounding areas, contact Panel Systems Unlimited. And, unlike many other companies in the industry, we provide a lifetime warranty on all of the products that we offer so you never have to worry about your investment not being protected.