Systems Furniture for Businesses in Birmingham, AL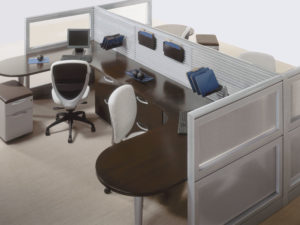 If you want to purchase quality used systems furniture for your business in Birmingham, Alabama, at prices that won't break the bank, then the best place to shop is at Panel Systems Unlimited. We offer pre-owned cubicles and workstations from top-rated manufacturers at highly competitive prices, affording our customers the opportunity to acquire the quality office furniture they need at a price they can afford.
Our selection of used systems furniture includes options from many of today's most trusted brands, including:
Kimball
Allsteel
Steelcase
Herman Miller
Teknion
Trendway
Haworth
Knoll
While many furniture companies sell used furniture as-is, at Panel Systems Unlimited, we don't sell any workstations to our customers in Birmingham, AL, that don't meet our own stringent standards for appearance and functionality. All of the systems furniture we offer our customers has undergone a thorough inspection and been subjected to an extensive refurbishment process, which includes steam cleaning the panels and replacing missing and defective parts. The end result is commercial-grade workstations that look like new, so you can feel confident you are investing in quality modular office furniture. And, we back all of the office furniture we sell with a lifetime warranty, so you know your investment is protected.
Contact Panel Systems Unlimited today to learn more about the systems furniture we have available for businesses in Birmingham, AL. Also, inquire about the many helpful services we offer, including professional space planning and workstation installation.