Used Systems Furniture Available for Businesses in Augusta, GA & Other Surrounding Cities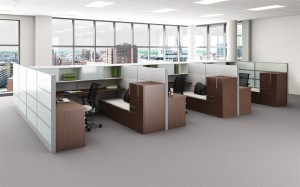 If you are considering buying used systems furniture for your business in Augusta, Georgia, the ideal place to turn is Panel Systems Unlimited. We offer a wide selection of previously owned cubicles and workstations that are both durable and stylish, and we make them available at highly competitive prices. This gives companies an opportunity to acquire quality systems furniture for their office at a price that won't break the bank.
When purchasing any kind of used office furniture, it's always best to choose from brand-name offerings. This ensures that the furniture you buy is well-crafted and won't succumb to daily use in a busy office setting. At Panel Systems Unlimited, we only deal in office furnishings that bear the names of respected commercial-grade furniture manufacturers known for producing systems furniture that is built to last. While our selection of used workstations and cubicles is fluid, you could be able to find options from renowned manufacturers like:
Haworth
Trendway
Teknion
Herman Miller
Steelcase
Allsteel
Knoll
Kimball
Additionally, as a full-service furniture company, we can assist in the development of your office space. We offer office design services from professional space planners, who can show you how to set up your used office furniture to create functional work areas for your employees.
Contact Panel Systems Unlimited today to learn more about the pre-owned systems furniture we have available for businesses in Augusta, GA, and the surrounding area.