Convenient Sit-to-Stand Desks for Businesses in Columbus, GA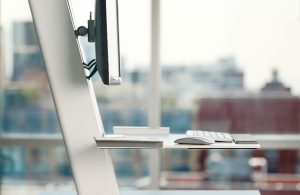 A sit-to-stand desk is a great addition for any business in Columbus, Georgia, or a surrounding area because it will grant your employees the opportunity to remain healthy and active while remaining productive throughout the workday. Thankfully, local businesses can look no further than the experts at Panel Systems Unlimited to achieve these quality products or any other desks you may require for your office.
What's more, in addition to the many health benefits associated with the sit to stand desks offered by Panel Systems Unlimited, there are a variety of additional features that you will be able to take advantage of at your Columbus business, including a wide variety of colors to complement your existing aesthetic, stable keyboard trays and other accessories, and a minimalistic design.
Experienced Design Team
In addition, when you select a sit-to-stand desk from the professionals at Panel Systems Unlimited, you'll be able to work closely with our experienced in-house design team to create the perfect layout with your new products. In fact, our team will utilize your space to create a beautiful and effective layout. Once we have an understanding of your needs, our team will create a CAD-rendered drawing that will allow you to see where everything will be installed prior to your installation. Once we have your approval, our team of installers will get started filling your new space with your new sit-to-stand desks and other furnishings.
To find out more about the convenient sit-to-stand desks and other ergonomic office furniture we offer to business owners in Columbus, GA, and the surrounding areas, contact Panel Systems Unlimited today. When you do, one of our highly knowledgeable team members will happily answer any questions you may have about our products.