Preowned Cubicles Will Help You Save Money While Finding Adequate Seating for Your Sales Team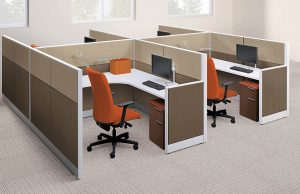 No matter the product or service that your business offers, it is important that you have enough room to adequately seat your entire sales staff. Thankfully, Panel Systems Unlimited proudly serves businesses nationwide and provides high-quality, new, preowned, or remanufactured cubicles. We have over 40 years of combined experience and will make sure that your business receives products at an affordable price that suit all of your aesthetic appeal, durability, and functionality needs.
Whether your sales team performs outbound calls or just simply need a home base to operate out of while hitting the road in search of sales, we have an option that works for all types of businesses. In fact, Panel Systems Unlimited offers products from all of the industry's leading manufacturers including Teknion, Herman Miller, Knoll, Steelcase, and more. And, while our inventory is constantly changing, it is likely that we will always have a wide variety of stylish cubicles in stock, including:
L-shaped cubicles
Computer workstations
U-shaped cubicles
Office partitions
And more
Impressive Design Services
In addition, no matter the type of cubicles you desire for your sales team, our team of designers will help you create the most effective layout to fit your new products. In fact, we'll even create a detailed CAD drawing of your workplace so you can see exactly where your new cubicles will go before any furnishings are installed. And, we even protect all of the products we install with a lifetime guarantee so you can feel confident knowing your investment is protected.
To learn more about the preowned cubicles that we offer to businesses throughout the nation, contact Panel Systems Unlimited today. When you do, we will happily answer any questions you may have about our products and installation services.