High-Quality Preowned Cubicles Available to Businesses in Athens, GA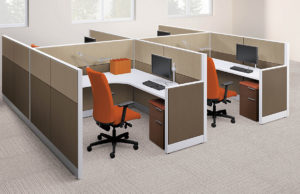 Preowned cubicles are the perfect choice for businesses in Athens, Georgia, and the surrounding areas because they offer an affordable way for you to furnish your office while creating an aesthetically appealing and functional solution. Thankfully, local businesses can look to the professionals at Panel Systems Unlimited for high-quality preowned furniture. We proficiently inspect and clean all of our used cubicles while ensuring they suit our requirements for structural integrity and visual appeal.
What's more, we strive to offer the best used cubicles to businesses in Athens, GA, and the surrounding areas, so that you can find the perfect products for your business even though you are receiving them at a preowned price point. Some of the cubicles we typically have in our inventory include:
Ergonomically designed cubicles
Call center cubicles
Computer workstations
U-shaped and L-shaped cubicles
And more
Impressive Design Team
As a full-service office furniture company, we can help you with the design and layout of your office to make the most out of your new preowned cubicles. Our team of designers will create a detailed floor plan using CAD technology so that you can easily view how your new products will look once installed in your workplace. Once we have your approval, our technicians will begin moving all of your used cubicles into your office.
Let's Get Started!
For more information about the outstanding preowned cubicles that we offer to businesses in Athens, GA, and the surrounding communities, contact Panel Systems Unlimited today. When you do, one of our knowledgeable team members will happily answer any questions you may have.