Contemporary Open Plan Systems for Offices in Columbia, SC & Surrounding Areas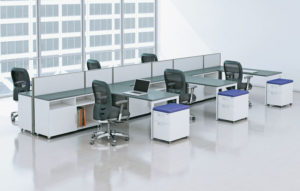 Open plan systems are a popular choice for modern businesses in Columbia, South Carolina, and all surrounding areas. An open-plan layout can actually save you money on your purchase due to a reduction in costs associated with equipment, utilities, and construction. Panel Systems Unlimited understands the many benefits associated with an open office plan and offers a large selection of products that will help you achieve this unique design style. Serving businesses nationwide since 1996, we can ensure that we will be able to help you achieve your unique vision for an open plan office space that, in addition to saving costs, will allow your employees to collaborate more frequently and stay on track throughout the day.
Panel Systems Unlimited has cubicles available in various sizes and dimensions to fit every type of office space. Our inventory is always changing, but we are highly confident that we will have a convenient solution that will suit your needs. Some of the many features that could be available to your business in Columbia, SC, and the surrounding areas include:
Large selection of colors
Various fabric patterns
Work surfaces of varying materials
And more
To learn more about our open plan systems furniture offered to business in the Columbia, SC, area, contact Panel Systems Unlimited today. Our expert sales staff will be happy to answer any questions you may have.