Open Plan Office Furniture Available to Businesses Throughout the Southeast and Nationwide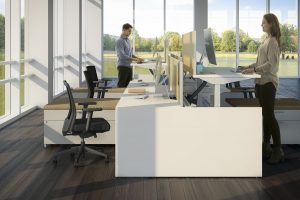 The addition of Open Plan office furniture at your office is a great way to create a more effective workplace that utilizes your space better than ever before. Thankfully, the experts at Panel Systems Unlimited has proudly served the area since 1996 by offering top-quality furniture from all of the industry's leading brands. And, we stand by the products we offer so much that we offer a lifetime warranty, so you can feel confident knowing that the furnishings at your office are well-protected.
When you select Open Plan office furniture for your workplace, you will be receiving products that are aesthetically appealing, easily reconfigurable, and will help promote productivity and encourage more collaboration between your employees. In addition, when you choose these highly stylish and popular furnishings, you'll be able to suit all of the needs of your workplace because we offer desking and benching systems, computer workstations, and a range of other configurable products that will meet the space and functionality requirements of your workplace. And, our products are easily customizable because you will be able to select from your choice of:
Work surface materials and colors
Panel fabric patterns
Trim, base, and edge colors
And more
Full-Service Office Furniture Company
When you turn to Panel Systems Unlimited instead of another local office furniture company, you'll be able to rest assured you're working with a company that can service all of your needs.
For more information about the Open Plan office furnishings that we offer to businesses throughout the United States, contact Panel Systems Unlimited today.