Open Plan Office Furniture Available to Businesses in Atlanta, GA & All Surrounding Area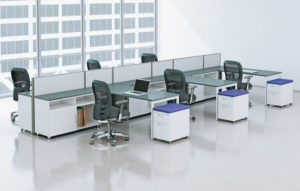 For open plan office furniture available to residents in Atlanta, Georgia, and the surrounding areas, turn to the experts at Panel Systems Unlimited. Since 1996, our team has provided business owners in the area with high-quality furnishings. We do this by carrying new, preowned, and remanufactured products from the most well-respected brands in the industry, including AIS, Herman Miller, Steelcase, and more. And, we back everything with a lifetime warranty so you know that your investment will always be protected.
The open office plan will allow you to create an efficient and aesthetically appealing workspace that will encourage collaboration among your employees. We offer every style of furnishing with an open plan solution available to your Atlanta, GA, business. This includes benching systems, workstations, desks, and more. Additionally, you can customize every preowned furnishing you purchase from Panel Systems Unlimited to perfectly suit your needs. For example, you will be able to choose from various:
Work surface materials and colors
Trim, base, and edge colors
Panel fabric patterns
And more
As your full-service office furniture company, we offer a planning and design department that will assist you with the layout of the items that we sell. Our designers are certified and will provide you with a CAD rendering of your office's floor plan to allow you to preview exactly how your furniture will look before having anything moved into your office space.
For more information about the open plan office furniture options that we offer to business owners in Atlanta, GA, and the surrounding areas, contact Panel Systems Unlimited today.