Durable Office Partitions Available to Business Owners in Tampa, FL & Surrounding Areas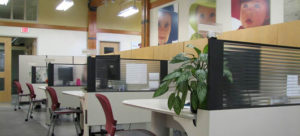 Installing office partitions in your workspace can be an easy way to save you money on interior design and furnishing costs while still promoting growth at your local business based in the Tampa, Florida, area. Office dividers provide privacy for your employees, promote productive, and allow you to easily rearrange your floor plan should your needs ever change.
What's more, the design options and features of office partitions are essentially endless. When purchasing dividers for your office, you will be able to find a wide range of products to suit your Tampa, FL, office place, including:
Tile and frame construction
Glass dividers
A large variety of panel patterns, colors, and fabrics
And more
If this sounds good to you, turn to the experts at Panel Systems Unlimited for new office partitions, along with a number of other high-end products. We are the area's leading new, preowned, and remanufactured office furniture dealer and will happily provide your office with whatever furnishings you may need. Not only that, but our design team will provide you with a CAD rendering of your new layout so that you can preview the arrangement of your workspace before our installation teams ever move anything into your office.
To learn more about our effective office partitions and other office furnishings, contact Panel Systems Unlimited today. We offer a lifetime warranty on all of the products we offer and require our installation teams to provide lifetime labor warranties on all of their installations.