Effective Office Partitions for Your Business in Raleigh, NC, or a Surrounding Area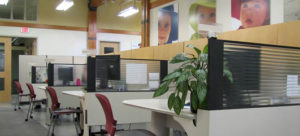 Installing office partitions at your office in Raleigh, North Carolina, or a surrounding area, is an excellent way to help you save money while trying to enhance your workplace. Thankfully, Panel Systems Unlimited is in the area and offers high quality dividers to all business in the area. These partitions will help create a functional and productive work environment for your employees to conduct business in.
Furthermore, at Panel Systems Unlimited we are a full-service office furnishings company that has the access to provide you with an impressive amount of office partitions that are designed to fit your every need. Business owners in Raleigh, NC, and the surrounding areas, will be able to select from a wide variety of customization options such as:
An assortment of panel fabrics
Various patterns and colors
Tile and frame construction
Wood veneer finishes
Glass dividers
And more
Furthermore, as a full-service office furniture company, when you turn to us for office partitions or any other office furnishings, we will help you design the most effective layout for your company. We'll develop a CAD rendered image of what your office will look like upon installation and once we receive your approval we'll begin the installation of your new products.
For more information about the office partitions and other office furnishings available to businesses in Raleigh, NC, and the surrounding areas, contact Panel Systems Unlimited today. When you do, a highly knowledgeable member of our team will happily answer any questions you may have about our products and services.