Office Partitions for Companies in Orlando, FL & Neighboring Communities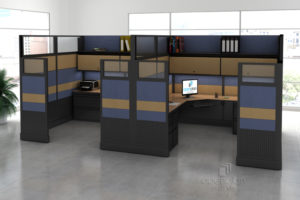 The office partitions from Panel Systems Unlimited can create an efficient, attractive workspace for your company in Orlando, Florida, or another nearby community, while saving you money on interior design costs and maintaining adaptability for future business growth and change. Our commercial-grade dividers can function as walls to provide privacy for work productivity, yet they are easily rearranged when your floor plan needs adjusting.
Plus, the available features and design options on our office partitions serve to enhance any room's aesthetics. You can select from a wide range of choices to customize your dividers so they will suit the décor of your Orlando, FL, area office, including:
Assorted panel fabrics and patterns
Glass dividers
Wood veneer finishes
Tile and frame construction
And much more
Once you decide on the style and color scheme for your office partitions, the certified design team at Panel Systems Unlimited can help you plan a layout that best utilizes your office space and achieves the look you want. Using CAD renderings, they can create a preview of your workspace arrangement and once you approve it, our trained technicians can install everything to your exact specifications.
You can count on the office partitions you select to provide lasting service, since we thoroughly clean and inspect every item we offer for sale to ensure its structural integrity, durability and aesthetic appeal. We are so confident in our panel systems that we offer a lifetime guarantee on all the dividers we sell.
For more information on our office partitions as well as the other furnishings we offer, please contact Panel Systems Unlimited today. We are proud to be a full-service office furniture company serving businesses in Orlando, FL, and all surrounding areas.