Panel Systems Unlimited Offers Impressive Office Furniture Relocation Services to Businesses Throughout the Nation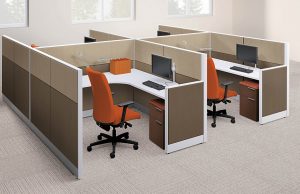 Are you expanding or decreasing your workforce and need to change offices to meet the new demands of your business? If so, look no further than the professionals at Panel Systems Unlimited to carry out your office furniture relocation. We have proudly served the area since 1996 and will assist you with ensuring that your intra-office or office-to-office relocation is completed successfully.
Our talented team of installers are all fully-insured and -certified so you can rest assured that your relocation will be completed without issue. During your relocation, if you come to the realization that you will no longer need some of the furnishings you currently have, we offer liquidation services to buy your old furnishings or allow you to trade it for credit towards your future office furniture needs.
Certified Design Team
One of the most important aspects of your office furniture relocation is that your new layout perfectly suits the demands of your business. In order to achieve this, our certified design team will use advanced CAD technology to create a rendering of your office so you can see exactly what your new space will look like before any furniture is moved.
To learn more about the office furniture relocation services we offer to businesses throughout the Southeast and Nationwide, contact Panel Systems Unlimited today. When you do, make sure to ask about any of our other exceptional products, including preowned, new, and remanufactured workstations.