High-Quality Office Dividers Available to Businesses in Atlanta, GA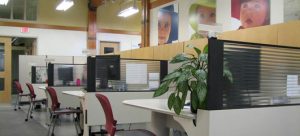 If you're looking for ways to increase the productivity of your office while also ensuring that you can transform a large, open area into several smaller workspaces, office dividers may be just what you're looking for. Thankfully, business owners in Atlanta, Georgia, and the surrounding areas can look to the professionals at Panel Systems Unlimited for quality office furniture that is designed by some of the most well-known manufacturers in the industry. In fact, our inventory of new, preowned, and remanufactured office furniture is available in a wide range of materials, sizes, and colors to ensure that we offer the perfect products for your workplace.
We have proudly supplied Atlanta businesses with high-quality systems furniture since our founding in 1996 and specialize in offering products from all of the industry's leading manufacturers at affordable prices while delivering an impressive commitment to customer service. This will allow you to rest assured that your office dividers will suit the exact needs you have for your business.
Impressive Design Team
In addition, when you turn to Panel Systems Unlimited for office dividers at your business in Atlanta, GA, or a surrounding area, you'll be able to rest assured that your office will obtain the attractive and functional setting that you've always desired. This is because our full-service design team will create a CAD rendered image for your approval before a single piece of furniture is installed.
Contact Us Today!
For more information about the impressive office dividers and other office furniture that we offer to businesses in Atlanta, GA, and the surrounding areas, contact Panel Systems Unlimited today. When you do, we will happily answer any questions you may have about our impressive furnishings.