High-Quality Office Cubicles Available to Residents of Knoxville, TN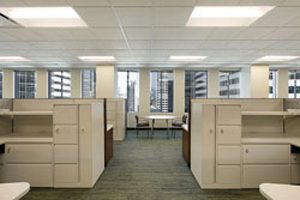 If you're looking for ways to enhance your office with new furnishings, used office cubicles from Panel Systems Unlimited are one of the best ways to furnish your space with aesthetically appealing and durable furniture at an affordable price. We proudly serve businesses in Knoxville, Tennessee, and the surrounding areas by offering quality products that are inspected and cleaned before being offered for sale. This will also allow for necessary repairs to be completed for structural integrity as well as enhance the functionality and visual appeal of your products prior to being delivered to your business. In fact, by selecting workstations from Panel Systems Unlimited, you'll be able to feel confident in knowing that you're receiving high-quality products.
When you turn to the professionals at Panel Systems Unlimited, you'll be able to rest assured that all of our used office cubicles are offered in a wide range of sizes, styles, and shapes to find the perfect configuration for your Knoxville, TN, area business. Some of the products that we typically have available in our inventory include:
Ergonomically designed cubicles
Built-in shelving and storage options
Call center cubicles
Computer workstations
U-shaped and L-shaped cubicles
And more
When you're ready for new office cubicles for your business, we'll also assist you with the layout and design of your office to make the most of your space and workflow requirements. Our team of certified designers is able to utilize CAD technology to let you preview what your new furnishings might look like. 
For more information about the reliable office cubicles that we offer to businesses in Knoxville, TN, and the surrounding areas, contact us today. When you do, we will happily answer any questions you may have about our office furniture products.