New Office Furniture for Businesses Nationwide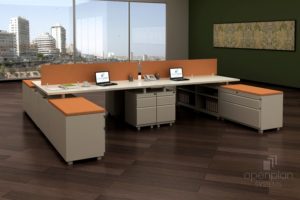 New office furniture from Panel Systems Unlimited can provide an appealing, open atmosphere to your business, enhancing the collaborative potential and increasing productivity. More and more businesses are learning of the value of adopting a flexible, adaptable office environment through the creative use of office space. At Panel Systems Unlimited, we specialize in helping you customize your workspace to suit the needs and style of your business by providing only the finest in office furniture solutions.
All of our new furniture systems are manufactured by Open Plan Systems (OPS), a leader in office furnishings for over two decades. These OPS2 Signature Series open plan workstations are available in three distinct lines – modular walls, panels, and tiles – that enable you to focus your office design around the benefits you most want to emphasize: refinement, flexibility, or affordability.
Some of the numerous customization options available with our new office furniture include:
Worksurface choices
Benching and glass options
Fabric color and pattern choices
And more
In addition, as a full-service systems furniture company, we offer comprehensive planning and installation assistance. If you choose, our design experts will work with you to create an office layout that is optimized for space and productivity, and our licensed installers can then follow that plan to quickly transform your office into your ideal workspace.
For more information on how new office furniture from Panel Systems Unlimited can build an environment for your office that helps to create an open, engaged, and collaborative workplace community, contact us today.