Convenient Low Panel Workstations Will Increase Productivity at Your Business in Savannah, GA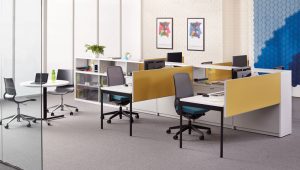 Gone are the days of cubicle farms with high panel walls that result in a claustrophobic and dark atmosphere for your employees to work in. Instead, turn to the experts at Panel Systems Unlimited for the installation of low panel workstations which will grant enough seating for your entire workforce while also allowing more natural lighting to fill the room and help improve employee productivity by making it easy for your employees to collaborate and share ideas throughout the workday. We have proudly served businesses in Savannah, Georgia, and the surrounding areas for decades and will help you find a workstation solution for your business that will enhance the aesthetic appeal of your office.
In order to achieve this, we offer a variety of low panel workstation options ranging from a variety of colors, sizes, materials, and configurations to ensure that you're receiving a product that is perfect for your needs. And, once you decide upon what type of workstation you desire for your office, our experienced design team will help you create the perfect layout. Our designers will take all of your functionality, space, and design requirements into consideration while crafting a rendering of your new layout for your approval.
What's more, at Panel Systems Unlimited you'll be granted the freedom to select from a wide variety of office furniture from all of the industry's leading manufacturers. And, because we have an always rotating selection of products you'll be sure to find high-quality new, preowned, or refurbished furnishings whenever you're ready to remodel your Savannah business.
For more information about the impressive low panel workstations we offer to businesses in Savannah, GA, and the surrounding areas, contact Panel Systems Unlimited today.