How to Select Used Office Furniture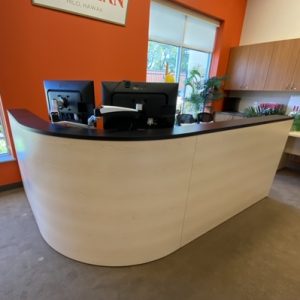 If you're looking for used office furniture for your business, it is likely that you're trying to determine what to look for in a quality product. For example, there are many used office furniture dealers that offer products at low prices that simply won't last. Thankfully, that's not the case when you turn to the professionals at Panel Systems Unlimited. Our high-quality used office furniture is offered in a like-new condition and will look and feel like it's been used for no longer than six months. We have proudly served offices across the country since 1996 and have the experience to help you plan, select, and arrange your used office furniture for optimal productivity, aesthetic appeal, and functionality.
At Panel Systems Unlimited, we offer a wide range of office furniture from all of the leading manufacturers throughout the industry. Whether you desire cubicles, computer desks, office partitions, or any other commercial furniture, we are sure to have a product that you are looking for in a used or remanufactured condition.
In addition, when you turn to Panel Systems Unlimited for used office furniture, we will create a CAD rendering of your design so that you can fully visualize exactly what your furnished office will look like once the installation is complete. This will allow you to rest assured that your design will be completed to your exact specifications. And, we even back most of our work with an impressive lifetime warranty for added peace of mind.
Let's Get Started!
For more information about the features and benefits of the used office furniture that we offer to businesses nationwide, contact Panel Systems Unlimited today. When you do, one of our knowledgeable team members will happily answer any additional questions you may have.