How Can I Improve My Office Layout?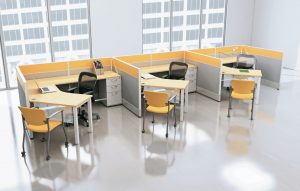 Is your Atlanta, Georgia business no longer suiting your needs in terms of space, design, or aesthetic appeal? If so, you may be wondering how you can improve the layout of your office space. Thankfully, local businesses can turn to the professionals at Panel Systems Unlimited for new office furnishings as well as a professional layout created by experienced designers. We have served the area for decades and offer a range of impressive products that will perfectly complement your existing furnishings and will be easily arranged into a convenient layout that will increase the functionality and design of your existing space.
No matter the products you require for your office, Panel Systems Unlimited offers an assortment of perfect products that are designed to instantly suit your needs. Our new, preowned, and remanufactured products are constantly being rotated in and out of our impressive warehouse so no matter when you're ready for an installation, we are likely to have the perfect office furnishings for your needs. If it is used cubicles that you desire, you'll be able to select from a wide range of styles, including:
Call center cubicles
Computer workstations
U-shaped and L-shaped cubicles
Ergonomically designed workstations
And more
Once you select the perfect cubicles for your needs, our team of designers will place them all into a CAD rendered drawing so that you can easily view what your office will look like once the installation is complete. Once we have your approval, our team of installers will get started installing your new furnishings to suit the functionality requirements you have for your office.
For more information about the office furnishings you can select from when trying to create the perfect layout for your office in Atlanta, GA, or a surrounding area, contact Panel Systems Unlimited today. When you do, we will happily answer any questions you may have about our new, preowned, and remanufactured office furniture.